Lybethras Muse Melissa Lori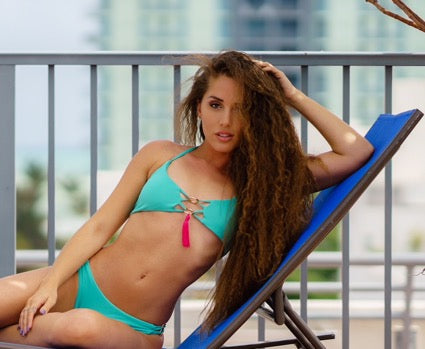 Meet our #lybethrasmuse Melissa Lori  
               wearing  our Maju bikini in green. 
Melissa is based in sunny Miami.
Describe yourself in 3 words: crazy, spiritual, caring
What do you most love in life ? meeting real people
What is important in a swimwear for you ?  Must fit properly, accentuate the assets, have a comfortable material.
Which colors do you prefer to use in a swimwear ? I am pretty easy, I Love wearing Black but I also Love crazy bright colors.
What's in your beach bag? Sunscreen, towel, magazine, headphones, chapstick, cell phone.
Favorite place to wear your Lybethras Swimwear ? The beach of course 
Which places do you want to travel ? Greece, Thailand, Bora Bora, Maldives
What do you do to get your beach body? Could you give us some tips ? I try to workout every Day and eat as healthy as possible (although I Love food and don't follow a diet).
How long and how often do you do exercise ? Probably 5 times a week for at least an hour
What is your favorite indulgence? Chocolateeeeee
What's Next for you? Hopefully more publications, new music being put out (I sing), and Just making a difference/helping other women grow and Love themselves
Keep up with Melissa on instagram 
@melissalori
Are you a #Lybethrasmuse ?
Use #lybethrasmuse on instagram so we can find you!
If you want to be our #lybethrasmuse Please send us an email. 
---